Windows Vista Annoyances
Tips, Secrets, and Hacks for the Cranky Consumer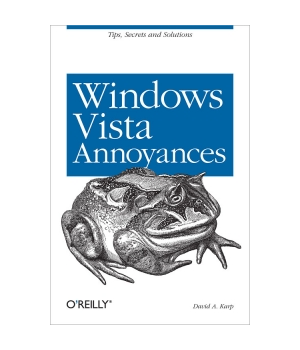 | | |
| --- | --- |
| Price | $3.88 - $28.62 |
| Rating | |
| Author | David A. Karp |
| Publisher | O'Reilly Media |
| Published | 2007 |
| Pages | 672 |
| Language | English |
| Format | Paper book / ebook (PDF) |
| ISBN-10 | 0596527624 |
| ISBN-13 | 9780596527624 |
EBook
Hardcover
Paperback
Windows Vista may be the next big thing, but it still contains enough quirks and unaccountable behaviors to vex anyone. This unique guide not only discusses the most irritating features of the latest
Microsoft
operating system and how to get around them, but also explains how to improve
Windows
and do more with the
software
than Microsoft intended. You'll find information on setup, installation, upgrade from other Windows versions, the revamped interface, new
security
features, user accounts, troubleshooting, and the markedly improved Internet Explorer 7.

4
5
16
Similar Books

Windows Vista Administration: The Definitive Guide 





by Brian Culp
Written in jargon-free English that puts concepts in proper context, this book helps system administrators install, configure, and maintain Microsoft's newest OS. You'll get a better understanding of Vista's innovations and capabilities, learn how to leverage Vista to increase worker productivity, discover how the system ca...
Price: $37.40  |  Publisher: O'Reilly Media  |  Release: 2007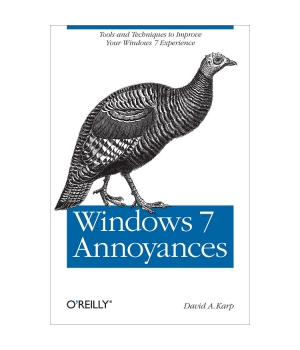 by David A. Karp
Windows 7 may be faster and more stable than Windows Vista, but that's a far cry from problem-free. With Windows 7 Annoyances, you'll learn how to deal with a wide range of nagging problems before they deal with you. Annoyances.org founder David Karp offers you the tools to fix all sorts of Windows 7 issues, along with solutions...
Price: $30.98  |  Publisher: O'Reilly Media  |  Release: 2010

by Andy Rathbone
The thing that's made Windows For Dummies so successful is that it's packed with the basics you need to make Windows work. This book gets you through all the Windows Vista tasks and tripwires, including starting programs, finding files, navigating the new see-through interface, staying safe while you cruise the Internet, and muc...
Price: $4.17  |  Publisher: Wiley  |  Release: 2006

by Ed Bott, Carl Siechert, Craig Stinson
You're beyond the basics, so dive right in and really put your PC to work! This supremely organized reference is packed with hundreds of timesaving solutions, troubleshooting tips, and workarounds. It's all muscle and no fluff. Discover how the experts tackle Windows Vista - and challenge yourself to new levels of mastery!...
Price: $6.75  |  Publisher: Microsoft Press  |  Release: 2007

by Preston Gralla
Bigger, better and broader in scope, the Big Book of Windows Hacks gives you everything you need to get the most out of your Windows Vista or XP system, including its related applications and the hardware it runs on or connects to. This book takes you beyond the operating system with hacks for applications like Internet Explorer 7 and Off...
Price: $3.25  |  Publisher: O'Reilly Media  |  Release: 2007

Windows Internals, 5th Edition 





by Mark E. Russinovich, David A. Solomon, Alex Ionescu
See how the core components of the Windows operating system work behind the scenes - guided by a team of internationally renowned internals experts. Fully updated for Windows Server 2008 and Windows Vista, this classic guide delivers key architectural insights on system design, debugging, performance, and support - along with hands-on exp...
Price: $12.00  |  Publisher: Microsoft Press  |  Release: 2009

by Mario Hewardt, Daniel Pravat
To help you find real solutions fast, this book is organized around real-world debugging scenarios. Hewardt and Pravat use detailed code examples to illuminate the complex debugging challenges professional developers actually face. From core Windows operating system concepts to security, Windows Vista and 64-bit debugging, they address em...
Price: $39.99  |  Publisher: Addison-Wesley  |  Release: 2008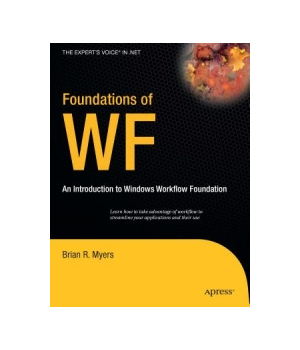 by Brian Myers
Have you ever spent hours coding workflow for your applications? If so, the new Microsoft Windows Workflow Foundation (WF) technology will make your life easier. Foundations of WF: An Introduction to Windows Workflow Foundation introduces you to using Visual Studio 2005 and the Windows Workflow Foundation (part of Windows Vista) to create...
Price: $4.92  |  Publisher: Apress  |  Release: 2006