Office 2013 All-In-One For Dummies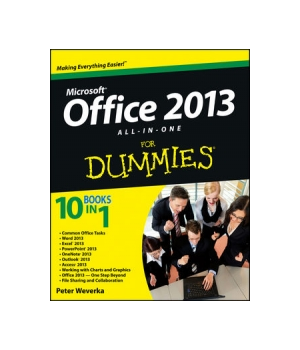 | | |
| --- | --- |
| Price | $6.11 - $23.62 |
| Rating | |
| Author | Peter Weverka |
| Publisher | Wiley |
| Published | 2013 |
| Pages | 816 |
| Language | English |
| Format | Paper book / ebook (PDF) |
| ISBN-10 | 1118516362 |
| ISBN-13 | 9781118516362 |
EBook
Hardcover
Paperback
Home and business users around the globe turn to
Microsoft
Office and its core applications every day. Whether you're a newcomer or a veteran
Office
user, this friendly-but-informative guide provides in-depth coverage on all the newest updates and enhancements to the Office 2013 suite. With an overview of tools common to all Office applications and self-contained minibooks devoted to each Office application, Office 2013 All-in-One For Dummies gets you up to speed and answers the questions you'll have down the road.

4
5
100
Similar Books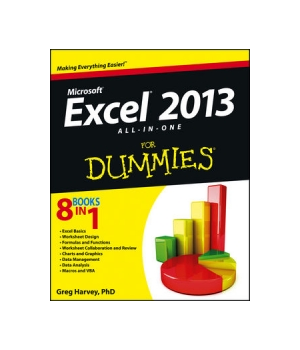 Excel 2013 All-in-One For Dummies 





by Greg Harvey
As the standard for spreadsheet applications, Excel is used worldwide - but it's not always user-friendly. However, in the hands of veteran bestselling author Greg Harvey, Excel gets a whole lot easier to understand! This handy all-in-one guide covers all the essentials, the new features, how to analyze data with Excel, and much more...
Price: $21.99  |  Publisher: Wiley  |  Release: 2013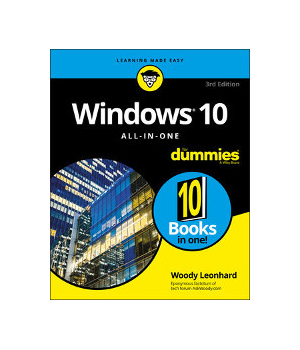 Windows 10 All-In-One For Dummies, 3rd Edition 





by Woody Leonhard
Are you ready to become the resident Windows 10 expert in your office? Look no further! This book is your one-stop shop for everything related to the latest updates to this popular operating system. With the help of this comprehensive resource, you'll be able to back up your data and ensure the security of your network, use Universal...
Price: $34.70  |  Publisher: Wiley  |  Release: 2018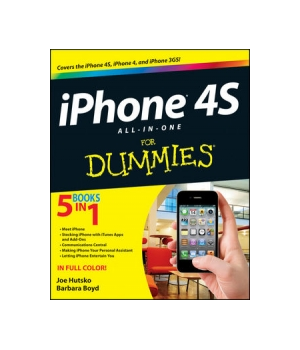 iPhone 4S All-in-One For Dummies 





by Joe Hutsko, Barbara Boyd
Here's the book for iPhone users who want it all - the basics to get started and the advanced info that puts all the iPhone's power at your fingertips. iPhone All-in-One For Dummies includes five minibooks - more than 600 pages in full color - packed with next-step information for iPhone power users at home, at work, or on the g...
Price: $7.73  |  Publisher: Wiley  |  Release: 2012

Photoshop Elements 11 All-in-One For Dummies 





by Barbara Obermeier, Ted Padova
Photoshop Elements is the top selling consumer photo editing software and Adobe continues to add innovative features that allow digital photo enthusiasts to do it all. This value-packed reference combines nine content-rich minibooks in one complete package. User-friendly and detailed, it covers the key features and tools that beginner and...
Price: $6.90  |  Publisher: Wiley  |  Release: 2012

WordPress All-in-One For Dummies 





by Lisa Sabin-Wilson, Cory Miller, Kevin Palmer, Andrea Rennick, Michael Torbert
A convenient how-to guide for maximizing your WordPress experience.WordPress is a state-of-the-art blog publishing platform with nearly ten million active installations. Eight minibooks provide you with expanded coverage of the most important topics to the WordPress community, such as WordPress basics, theme designs, plug-in development, ...
Price: $4.16  |  Publisher: Wiley  |  Release: 2011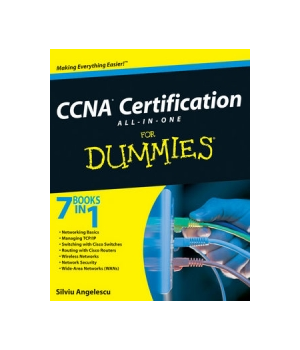 CCNA Certification All-In-One For Dummies 





by Silviu Angelescu
A complete preparation guide for the entry-level networking CCNA certification.If you're planning to advance your career by taking the all-important Cisco Certified Network Associate (CCNA), this is the study guide you need! Seven minibooks cover all the concepts and topics on which you'll be tested, covering the latest version ...
Price: $20.00  |  Publisher: Wiley  |  Release: 2010

SQL All-in-One For Dummies, 2nd Edition 





by Allen G. Taylor
SQL, or structured query language, is the international standard language for creating and maintaining relational databases. It is the basis of all major databases in use today and is essential for the storage and retrieval of database information. This fun and friendly guide takes SQL and all its related topics and breaks it down into ea...
Price: $7.49  |  Publisher: Wiley  |  Release: 2011

Linux All-in-One For Dummies, 4th Edition 





by Emmett Dulaney
Linux continues to grow in popularity worldwide as a low-cost, reliable operating system for enterprise use. Nine minibooks in this guide cover everything administrators need to know about the five leading versions: Ubuntu, Fedora Core, OpenSUSE, Mint, and Mandriva.The open source Linux operating system is gaining market share around the ...
Price: $6.29  |  Publisher: Wiley  |  Release: 2010