Pro Project Management with SharePoint 2010
Create a complete project management system using SharePoint Server 2010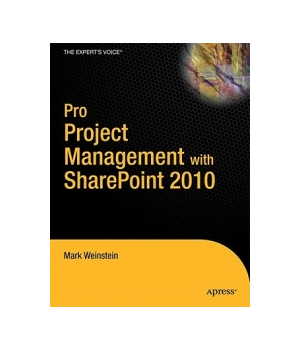 | | |
| --- | --- |
| Price | $39.49 - $39.99 |
| Rating | |
| Author | Mark Collins |
| Publisher | Apress |
| Published | 2010 |
| Pages | 424 |
| Language | English |
| Format | Paper book / ebook (PDF) |
| ISBN-10 | 1430228296 |
| ISBN-13 | 9781430228295 |
EBook
Hardcover
Paperback
Many successful project managers are beginning to utilize
Microsoft
SharePoint to drive their projects and operational initiatives.
SharePoint
Server provides teams with a centralized location for
project
information and facilitates collaboration between project team members. The intention of this book is to provide a hands-on case study that you can follow to create a complete project management information system (PMIS) using SharePoint
Server
2010.
Each chapter is focused on a typical project management activity and demonstrates techniques that can be used to facilitate that activity.

3
5
1
Similar Books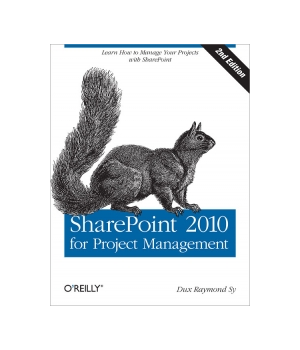 SharePoint 2010 for Project Management, 2nd Edition 





by Dux Raymond Sy
If you were to analyze your team's performance on a typical project, you'd be surprised how much time is wasted on non-productive tasks. This hands-on guide shows you how to work more efficiently by organizing and managing projects with SharePoint 2010. You'll learn how to build a Project Management Information System (PMIS...
Price: $10.00  |  Publisher: O'Reilly Media  |  Release: 2012

Professional Business Connectivity Services in SharePoint 2010 
by Scot Hillier, Brad Stevenson
As Microsoft's new multipurpose portal technology, Business Connectivity Services (BCS) is a brand new way for SharePoint users to seamlessly access and integrate data from any application or databases within SharePoint 2010. With this in-depth guide, a team of SharePoint experts walks you through the features of the new BCS, includi...
Publisher: Wrox  |  Release: 2011

by Raymond Mitchell, Kenneth Schaefer, Wes Preston, Andrew Clark, Becky Bertram, Chris Geier, Cathy Dew
A team of SharePoint authorities addresses the six most essential areas of SharePoint 2010SharePoint enables Web sites to host shared workspaces and is a leading solution for Enterprise Content Management. This book serves as one-stop shopping for concise coverage on six key areas that you need to know in order to get up and running with ...
Publisher: Wrox  |  Release: 2011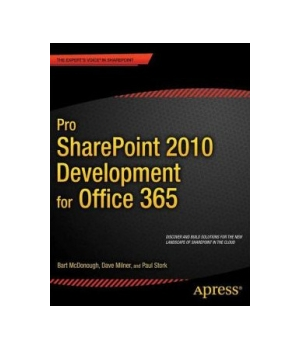 Pro SharePoint 2010 Development for Office 365 





by Bart McDonough, Dave Milner, Paul Stork
It's no secret that cloud-based computing is the next big movement in IT, and Microsoft is right there in the market with Office 365 - a cloud-based productivity suite which includes a hosted, cloud-focused version of SharePoint 2010.SharePoint 2010 developers who have traditionally developed for on-premise environments will suddenly...
Price: $38.61  |  Publisher: Apress  |  Release: 2012

by Ishai Sagi
Need fast, reliable, easy-to-implement solutions for SharePoint 2010? This book delivers exactly what you're looking for: step-by-step help and guidance with the tasks that users, authors, content managers, and site managers perform most often. Fully updated to reflect SharePoint 2010's latest improvements, this book covers ever...
Publisher: SAMS Publishing  |  Release: 2010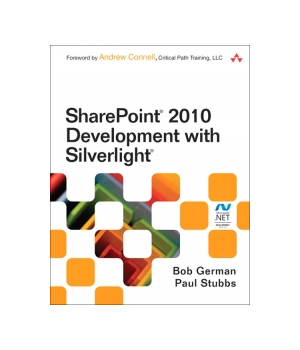 SharePoint 2010 Development with Silverlight 





by Bob German, Paul Stubbs
Developers increasingly want to build rich applications that run in the SharePoint 2010 browser user interface while offering a far more compelling and engaging experience than conventional web pages. One proven technology gives them all the tools and resources they need to achieve these goals: Silverlight. Using Silverlight and SharePoin...
Price: $3.98  |  Publisher: Addison-Wesley  |  Release: 2011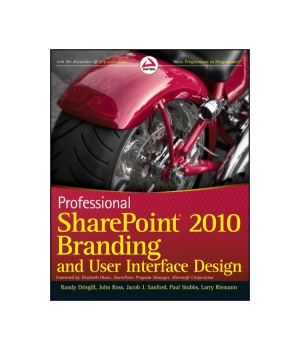 Professional SharePoint 2010 Branding and User Interface Design 





by Randy Drisgill, John Ross, Jacob J. Sanford, Paul Stubbs, Larry Riemann
SharePoint 2010 allows for much more robust branding opportunities and this hands-on resource shares proven techniques for branding and user interface design so that you can execute a successful branding initiative with SharePoint 2010. After a review of branding and how it relates to SharePoint, the book addresses what's new in Shar...
Price: $3.98  |  Publisher: Wrox  |  Release: 2010

SharePoint 2010 Business Intelligence 24-Hour Trainer 





by Adam Jorgensen, Mark Stacey, Devin Knight, Patrick LeBlanc, Brad Schacht
Written by a team of leading SharePoint and Business Intelligence (BI) experts, this unique book package shows you how to successfully build and deliver BI applications using SharePoint 2010. Assuming no previous SharePoint experience, the authors deliver a clear explanation of what SharePoint will do for your BI and information managemen...
Price: $4.59  |  Publisher: Wrox  |  Release: 2011