Expert SharePoint 2010 Practices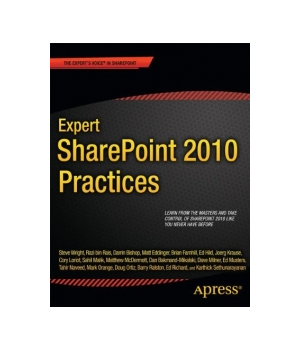 | | |
| --- | --- |
| Price | $11.99 - $54.98 |
| Rating | |
| Authors | Sahil Malik, Dan Bakmand-Mikalski, Razi bin Rais, Darrin Bishop , Matt Eddinger, Brian Farnhill, Ed Hild, Joerg Krause, Cory R. Loriot, Matthew McDermott, Dave Milner, Ed Musters, Tahir Naveed, Mark Orange, Doug Ortiz, Barry Ralston, E. Richard |
| Publisher | Apress |
| Published | 2011 |
| Pages | 760 |
| Language | English |
| Format | Paper book / ebook (PDF) |
| ISBN-10 | 1430238704 |
| ISBN-13 | 9781430238706 |
EBook
Hardcover
Paperback
Expert SharePoint 2010 Practices is a valuable compendium of best practices, tips, and secrets straight from the most knowledgeable
SharePoint
gurus in the industry.
Learn from the experts as you dive into topics like multitenancy, solution deployment,
business
intelligence, and administration. Our team of carefully chosen contributors, most with Microsoft's Most Valuable Professional (MVP) designation bestowed upon them, shares with you the secrets and practices that have brought them success in a wide variety of SharePoint scenarios.

5
5
4
Similar Books

by Ishai Sagi
Need fast, reliable, easy-to-implement solutions for SharePoint 2010? This book delivers exactly what you're looking for: step-by-step help and guidance with the tasks that users, authors, content managers, and site managers perform most often. Fully updated to reflect SharePoint 2010's latest improvements, this book covers ever...
Publisher: SAMS Publishing  |  Release: 2010

Inside Microsoft SharePoint 2010 





by Ted Pattison, Andrew Connell, Scot Hillier, David Mann
Build custom SharePoint 2010 solutions with deep architectural insights from the experts.Get a detailed look inside SharePoint 2010 - and master the intricacies of developing intranets, extranets, and Web-based applications. Guided by an author team with in-depth knowledge of SharePoint architecture, you'll gain task-oriented guidanc...
Price: $3.65  |  Publisher: Microsoft Press  |  Release: 2011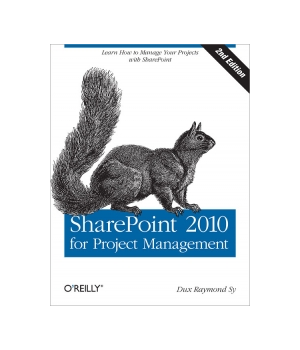 SharePoint 2010 for Project Management, 2nd Edition 





by Dux Raymond Sy
If you were to analyze your team's performance on a typical project, you'd be surprised how much time is wasted on non-productive tasks. This hands-on guide shows you how to work more efficiently by organizing and managing projects with SharePoint 2010. You'll learn how to build a Project Management Information System (PMIS...
Price: $10.00  |  Publisher: O'Reilly Media  |  Release: 2012

by Raymond Mitchell, Kenneth Schaefer, Wes Preston, Andrew Clark, Becky Bertram, Chris Geier, Cathy Dew
A team of SharePoint authorities addresses the six most essential areas of SharePoint 2010SharePoint enables Web sites to host shared workspaces and is a leading solution for Enterprise Content Management. This book serves as one-stop shopping for concise coverage on six key areas that you need to know in order to get up and running with ...
Publisher: Wrox  |  Release: 2011

Professional Business Connectivity Services in SharePoint 2010 
by Scot Hillier, Brad Stevenson
As Microsoft's new multipurpose portal technology, Business Connectivity Services (BCS) is a brand new way for SharePoint users to seamlessly access and integrate data from any application or databases within SharePoint 2010. With this in-depth guide, a team of SharePoint experts walks you through the features of the new BCS, includi...
Publisher: Wrox  |  Release: 2011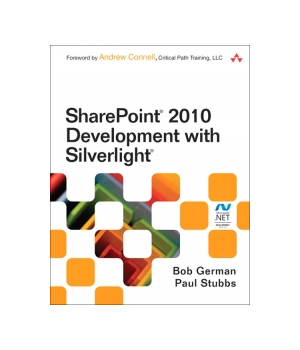 SharePoint 2010 Development with Silverlight 





by Bob German, Paul Stubbs
Developers increasingly want to build rich applications that run in the SharePoint 2010 browser user interface while offering a far more compelling and engaging experience than conventional web pages. One proven technology gives them all the tools and resources they need to achieve these goals: Silverlight. Using Silverlight and SharePoin...
Price: $3.98  |  Publisher: Addison-Wesley  |  Release: 2011

by Steven Mann, Colin Murphy, Pablo Gazmuri, Chris Caravajal, Christina Wheeler
Aimed at the more than 100 million licensed SharePoint 2010 users, this indispensable field guide addresses an abundance of common SharePoint 2010 problems and offers proven solutions. A team of authors encourages you to customize SharePoint beyond the out-of-the-box functionality so that you can build more complex solutions to these chal...
Price: $3.51  |  Publisher: Wrox  |  Release: 2012

Practical SharePoint 2010 Branding and Customization 





by Erik Swenson
SharePoint 2010 deployments are more common than ever, as is the desire to make the environment branded and attractive to both internal and external clients. However, since SharePoint is more than just a collection of web pages, customizing the look and feel and completing the process of branding the platform itself is complex and require...
Price: $41.17  |  Publisher: Apress  |  Release: 2012