Pro PHP and jQuery, 2nd Edition
Take your dynamic PHP 7 apps to the next level by adding a JavaScript layer using jQuery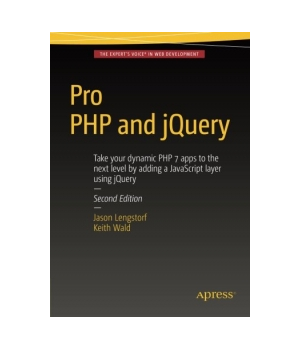 | | |
| --- | --- |
| Price | $41.09 - $56.16 |
| Rating | |
| Authors | Jason Lengstorf, Keith Wald |
| Publisher | Apress |
| Published | 2016 |
| Pages | 388 |
| Language | English |
| Format | Paper book / ebook (PDF) |
| ISBN-10 | 1484212312 |
| ISBN-13 | 9781484212318 |
EBook
Hardcover
Paperback
Take advantage of the improved performance and reduced memory requirements of
PHP
version 7, and learn to utilize the new built-in PHP functions and features such as typed variable enforcement with declare(strict_types=1) and the new available data types, scalar type declarations for function arguments and return statements, constant arrays using define(), argument unpacking with the ... operator, integer division with intdiv(), the null coalesce operator, the spaceship operator, new exception types, and improvements to existing features.
Pro PHP and
jQuery
, Second Edition is for intermediate level programmers interested in building web applications using jQuery and PHP. Updated for PHP version 7 and the latest version of jQuery, this book teaches some advanced PHP techniques and it shows you how to take your dynamic applications to the next level by adding a
JavaScript
layer using the jQuery
framework
and APIs.
After reading and using this book, you'll come away having built a fully functional PHP and jQuery web application that you can reapply as a template for your own particular web application.

4
5
31
Similar Books

Beginning JavaScript with DOM Scripting and Ajax, 2nd Edition 





by Russ Ferguson, Christian Heilmann
Beginning JavaScript with DOM Scripting and Ajax is an essential resource for modern JavaScript programming. This completely updated second edition covers everything you need to know to get up-to-speed with JavaScript development and add dynamic enhancements to web pages, right from the basics. As well as focusing on client-side JavaScrip...
Price: $29.00  |  Publisher: Apress  |  Release: 2013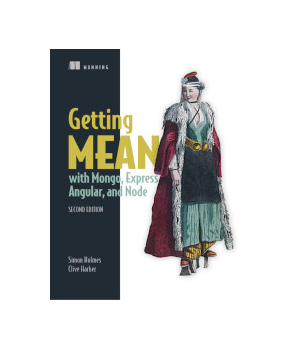 Getting MEAN with Mongo, Express, Angular, and Node, 2nd Edition 





by Simon Holmes, Clive Harber
Getting MEAN, Second Edition teaches you how to develop full-stack web applications using the MEAN stack. This edition was completely revised and updated to cover MongoDB 4, Express 4, Angular 7, Node 11, and the latest mainstream release of JavaScript ES2015.Juggling languages mid-application can radically slow down a full-stack web proj...
Price: $38.99  |  Publisher: Manning  |  Release: 2019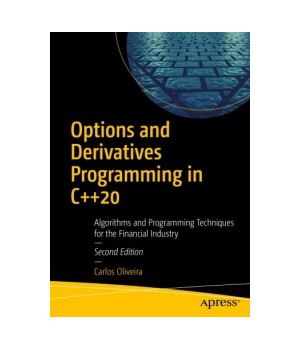 Options and Derivatives Programming in C++20, 2nd Edition 
by Carlos Oliveira
Master the features of C++ that are frequently used to write financial software for options and derivatives, including the STL, templates, functional programming, and numerical libraries. This book also covers new features introduced in C++20 and other recent standard releases: modules, concepts, spaceship operators, and smart pointers. Y...
Price: $34.37  |  Publisher: Apress  |  Release: 2020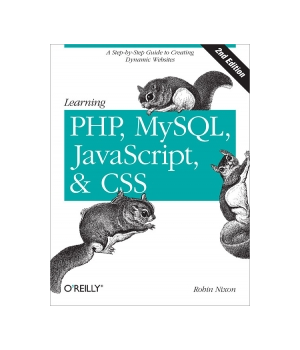 Learning PHP, MySQL, JavaScript, and CSS, 2nd Edition 





by Robin Nixon
Learn how to build interactive, data-driven websites - even if you don't have any previous programming experience. If you know how to build static sites with HTML, this popular guide will help you tackle dynamic web programming. You'll get a thorough grounding in today's core open source technologies: PHP, MySQL, JavaScript...
Price: $25.00  |  Publisher: O'Reilly Media  |  Release: 2012

Programming Google App Engine, 2nd Edition 





by Dan Sanderson
Google App Engine makes it easy to create a web application that can serve millions of people as easily as serving hundreds, with minimal up-front investment. With Programming Google App Engine, Google engineer Dan Sanderson provides practical guidance for designing and developing your application on Google's vast infrastructure, usi...
Price: $35.10  |  Publisher: O'Reilly Media  |  Release: 2012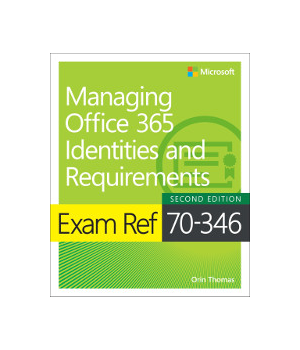 Exam Ref 70-346 Managing Office 365 Identities and Requirements, 2nd Edition 





by Orin Thomas
Prepare for Microsoft Exam 70-346, and demonstrate your real-world mastery of the skills needed to provision, manage, monitor, and troubleshoot Microsoft Office 365 identities and cloud services. Designed for experienced IT pros ready to advance their status, this Exam Ref focuses on the critical-thinking and decision-making acumen needed...
Price: $28.78  |  Publisher: Microsoft Press  |  Release: 2017

Managing NFS and NIS, 2nd Edition 





by Mike Eisler, Ricardo Labiaga, Hal Stern
A modern computer system that's not part of a network is even more of an anomaly today than it was when we published the first edition of this book in 1991. But however widespread networks have become, managing a network and getting it to perform well can still be a problem.Managing NFS and NIS, in a new edition based on Solaris 8, i...
Price: $39.35  |  Publisher: O'Reilly Media  |  Release: 2001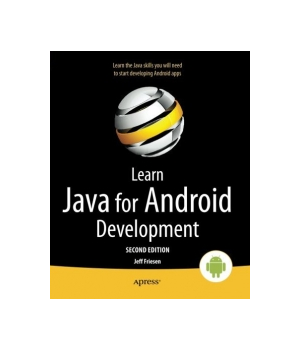 Learn Java for Android Development, 2nd Edition 





by Jeff Friesen
Android development is hot, and many programmers are interested in joining the fun. However, because this technology is based on Java, you should first obtain a solid grasp of the Java language and its foundational APIs to improve your chances of succeeding as an Android app developer. After all, you will be busy learning the architecture...
Price: $3.65  |  Publisher: Apress  |  Release: 2013