Apple Device Management
A Unified Theory of Managing Macs, iPads, iPhones, and AppleTVs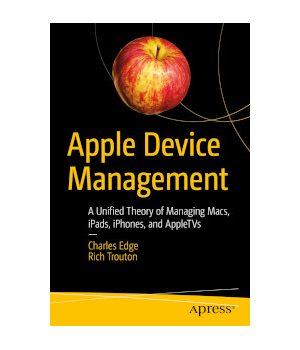 | | |
| --- | --- |
| Price | $30.27 - $35.22 |
| Rating | |
| Authors | Charles Edge, Rich Trouton |
| Publisher | Apress |
| Published | 2020 |
| Pages | 777 |
| Language | English |
| Format | Paper book / ebook (PDF) |
| ISBN-10 | 1484253876 |
| ISBN-13 | 9781484253878 |
EBook
Hardcover
Paperback
Working effectively with Apple platforms at a corporate or
business
level includes not only infrastructure, but a mode of thinking that administrators have to adopt to find success. A mode of thinking that forces you to leave 30 years of IT dogma at the door. This book is a guide through how to integrate Apple products in your environment with a minimum of friction. Because the Apple ecosystem is not going away.
You'll start by understanding where Apple, third-party
software
vendors, and the IT community is taking us. What is
Mobile
Device Management and how does it work under the hood. By understanding how MDM works, you will understand what needs to happen on your networks in order to allow for MDM, as well as the best way to give the least amount of
access
to the servers or services that's necessary. You'll then look at management agents that do not include MDM, as well as when you will need to use an agent as opposed to when to use other options. Once you can install a management solution, you can deploy profiles on a device or you can deploy profiles on Macs using scripts.
With Apple Device Management as your guide, you'll customize and package software for deployment and lock down devices so they're completely secure. You'll also work on getting standard QA environments built out, so you can test more effectively with less effort.
Apple is forging their own path in IT. They trade spots with Amazon,
Google
, and Microsoft as the wealthiest company to ever exist. And they will not be constrained by 30 or more years of dogma in the IT industry. You can try to shoehorn Apple devices into outdated modes of device management, or you can embrace Apple's stance on management with the help of this book.
Deploy profiles across devices effectively and securely; Install apps remotely both from the app store and through custom solutions; Work natively with Apple environments rather than retrofitting older IT solutions.

5
5
8
Similar Books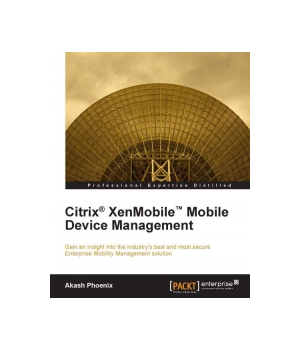 Citrix XenMobile Mobile Device Management 





by Akash Phoenix
XenMobile is an enterprise Mobile Development Management solution with a multitude of technologies within it. It offers security and compliance in IT while giving apps and data freedom to users with mobile devices. The rising prevalence of mobile devices into corporate environments has increased the demand of Enterprise Mobility Managemen...
Price: $20.99  |  Publisher: Packt Publishing  |  Release: 2014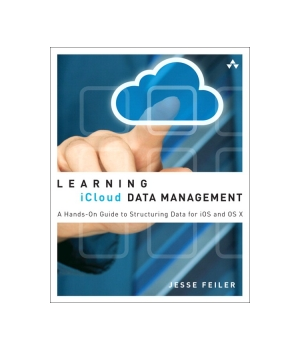 Learning iCloud Data Management 





by Jesse Feiler
As apps rapidly move into business and the cloud, iOS and OS X developers need new data management techniques. In Learning iCloud Data Management, renowned Apple database expert Jesse Feiler shows you how to use Apple's latest APIs and technologies to structure and synchronize all forms of data. Feiler helps you understand the issues...
Price: $24.07  |  Publisher: Addison-Wesley  |  Release: 2014

Apple macOS and iOS System Administration 





by Drew Smith
Effectively manage Apple devices anywhere from a handful of Macs at one location to thousands of iPhones across many locations. This book is a comprehensive guide for supporting Mac and iOS devices in organizations of all sizes.You'll learn how to control a fleet of macOS clients using tools like Profile Manager, Apple Device Enrollm...
Price: $30.04  |  Publisher: Apress  |  Release: 2020

by Jayven Nhan
Embark on a journey to build an augmented reality world. This book puts theory into practical application by building unique augmented reality apps specific to each chapter's topic.You'll learn to engineer successful, well-designed, and comprehensive augmented reality applications for Apple devices. First, uncover the foundation...
Price: $34.47  |  Publisher: Apress  |  Release: 2022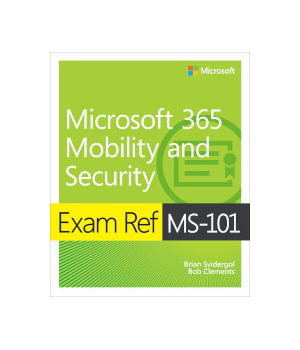 Exam Ref MS-101 Microsoft 365 Mobility and Security 





by Brian Svidergol, Robert Clements
Prepare for Microsoft Exam MS-101 - and help demonstrate your real-world mastery of skills and knowledge needed to manage Microsoft 365 mobility, security, and related administration tasks. Designed for experienced IT professionals, Exam Ref focuses on the critical thinking and decision-making acumen needed for success at the Microsoft Ce...
Price: $27.49  |  Publisher: Microsoft Press  |  Release: 2019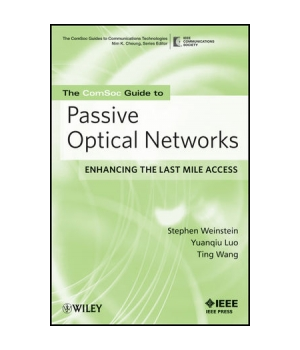 The ComSoc Guide to Passive Optical Networks 





by Stephen B. Weinstein, Yuanqiu Luo, Ting Wang
The ComSoc Guide to Passive Optical Networks provides readers with a concise explanation of the key features of Passive Optical Networks (PONs); the different types of PON architectures and standards; key issues of PON devices, management, and implementation; and the promising business opportunities in access networks.Written for a broad ...
Price: $52.99  |  Publisher: Wiley  |  Release: 2012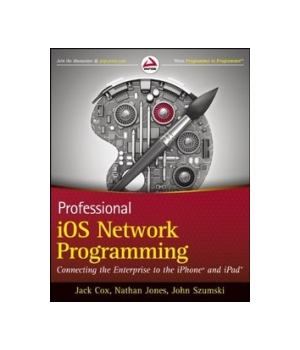 Professional iOS Network Programming 





by Jack Cox, Nathan Jones, John Szumski
The iPhone and iPad have made a powerful impact on the business world. Developers creating iOS apps for the enterprise face unique challenges involving networking, system integration, security, and device management. This Wrox guide provides everything you need to know to write iOS apps that integrate with enterprise network resources, pr...
Price: $4.60  |  Publisher: Wrox  |  Release: 2012

Head First iPhone and iPad Development, 3rd Edition 





by Dan Pilone, Tracey Pilone
Let's say you have a killer app idea for iPhone and iPad. Where do you begin? Head First iPhone and iPad Development will help you get your first application up and running in no time. You'll not only learn how to design for Apple's devices, you'll also master the iPhone SDK tools - including Xcode and Objective-C prog...
Price: $3.49  |  Publisher: O'Reilly Media  |  Release: 2013