Linux Mint System Administrator's
A practical guide to learn basic concepts, techniques, and tools to become a Linux Mint system administrator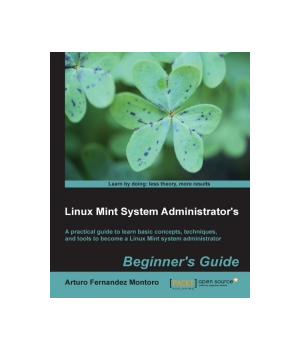 | | |
| --- | --- |
| Price | $14.99 - $29.99 |
| Rating | |
| Author | Arturo Fernandez Montoro |
| Publisher | Packt Publishing |
| Published | 2012 |
| Pages | 146 |
| Language | English |
| Format | Paper book / ebook (PDF) |
| ISBN-10 | 1849519609 |
| ISBN-13 | 9781849519601 |
EBook
Hardcover
Paperback
System administrators are responsible for keeping servers and workstations working properly. They perform actions to get a secure, stable, and robust operating system. In order to do that, system administrators perform actions such as monitoring, accounts maintenance, restoring backups, and
software
installation. All these actions and tasks are crucial to
business
success. Linux Mint System Administrator's Beginner's Guide is a practical and concise guide that offers you clear step-by-step exercises to learn good practices, commands, tools, and tips and tricks to convert users into system administrators in record time.

3
5
14
Similar Books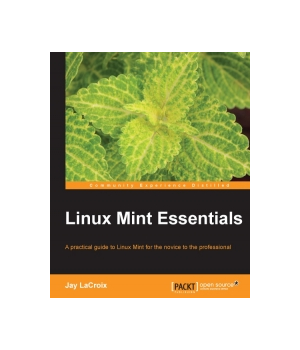 by Jay LaCroix
Linux Mint is one of the most popular and proven distributions for beginners and advanced users alike. Out of the box hardware and multimedia support makes Mint your go-to choice for general computing. Its ease of use has transformed it into a celebrated Linux distribution.This is an all-inclusive guide to Linux Mint, and will teach you e...
Price: $29.99  |  Free ebook  |  Publisher: Packt Publishing  |  Release: 2014

Mastering Unix Shell Scripting, 2nd Edition 





by Randal K. Michael
UNIX expert Randal K. Michael guides you through every detail of writing shell scripts to automate specific tasks. Each chapter begins with a typical, everyday UNIX challenge, then shows you how to take basic syntax and turn it into a shell scripting solution. Covering Bash, Bourne, and Korn shell scripting, this updated edition provides ...
Price: $57.72  |  Publisher: Wiley  |  Release: 2008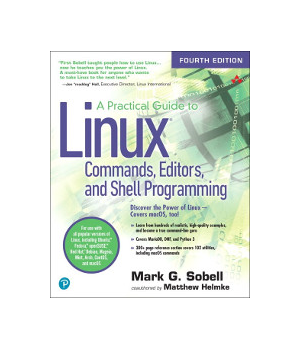 A Practical Guide to Linux Commands, Editors, and Shell Programming, 4th Edition 





by Mark G. Sobell, Matthew Helmke
Linux is today's dominant Internet server platform. System administrators and Web developers need deep Linux fluency, including expert knowledge of shells and the command line. This is the only guide with everything you need to achieve that level of Linux mastery. Renowned Linux expert Mark Sobell has brought together comprehensive, ...
Price: $28.99  |  Publisher: Addison-Wesley  |  Release: 2017

Linux All-in-One For Dummies, 4th Edition 





by Emmett Dulaney
Linux continues to grow in popularity worldwide as a low-cost, reliable operating system for enterprise use. Nine minibooks in this guide cover everything administrators need to know about the five leading versions: Ubuntu, Fedora Core, OpenSUSE, Mint, and Mandriva.The open source Linux operating system is gaining market share around the ...
Price: $6.29  |  Publisher: Wiley  |  Release: 2010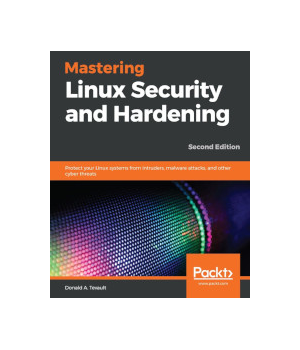 Mastering Linux Security and Hardening, 2nd Edition 





by Donald A. Tevault
From creating networks and servers to automating the entire working environment, Linux has been extremely popular with system administrators for the last couple of decades. However, security has always been a major concern. With limited resources available in the Linux security domain, this book will be an invaluable guide in helping you ...
Price: $44.99  |  Publisher: Packt Publishing  |  Release: 2020

by Rob Flickenger
Linux Server Hacks is a collection of 100 industrial-strength hacks, providing tips and tools that solve practical problems for Linux system administrators. Every hack can be read in just a few minutes but will save hours of searching for the right answer. Some of the hacks are subtle, many of them are non-obvious, and all of them demonst...
Price: $4.19  |  Publisher: O'Reilly Media  |  Release: 2003

by Derek Vadala
Managing RAID on Linux covers everything system administrators need to know to put together a system that can support RAID. You will learn about the different types of RAID, along with associated technologies and issues, and how to choose the best RAID system for your needs. With a step-by-step, hands-on approach, the author guides you t...
Price: $28.91  |  Publisher: O'Reilly Media  |  Release: 2002

by William von Hagen
It's the fastest-growing, coolest Linux distribution out there, and now you can join the excitement with this information-packed guide. Want to edit graphics? Create a spreadsheet? Manage groups? Set up an NFS server? You'll learn it all and more with the expert guidance, tips, and techniques in this first-ever soup-to-nuts book...
Price: $7.53  |  Publisher: Wiley  |  Release: 2007