Beginning ASP.NET Web Pages with WebMatrix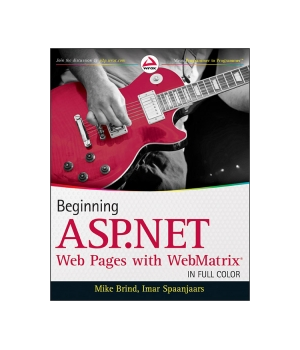 | | |
| --- | --- |
| Price | $12.99 - $26.00 |
| Rating | |
| Authors | Mike Brind, Imar Spaanjaars |
| Publisher | Wrox |
| Published | 2011 |
| Pages | 408 |
| Language | English |
| Format | Paper book / ebook (PDF) |
| ISBN-10 | 1118050487 |
| ISBN-13 | 9781118050484 |
EBook
Hardcover
Paperback
Taking a task-oriented approach to learning, this practical guide shows you why WebMatrix is an ideal entry-level tool for developing web sites using ASP.NET. The author duo arms you with the basics of what WebMatrix is, how it works, how to get the most out of it, and the other technologies you need to know in order to become a successful developer, including
HTML
, CSS, and SQL. You'll discover how WebMatrix integrates with an open source web application gallery and includes valuable coding and
database
support. Best of all: no prior experience with web development is assumed, allowing you to confidently dive into using WebMatrix today.

4
5
10
Similar Books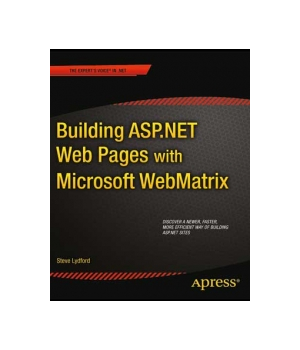 Building ASP.NET Web Pages with Microsoft WebMatrix 





by Steve Lydford
WebMatrix is the latest addition to the hugely popular Microsoft ASP.NET web platform. This exciting new technology aims to simplify the process of developing websites by combining the new and powerful Razor syntax with a fully extensible set of data and HTML helpers for performing common web tasks.The WebMatrix installation includes all ...
Price: $25.77  |  Publisher: Apress  |  Release: 2011

Building Mobile Applications Using Kendo UI Mobile and ASP.NET Web API 





by Nishanth Nair, Ragini Kumbhat Bhandari
Building Mobile Applications Using Kendo UI Mobile and ASP.NET Web API helps you to understand the concept of building mobile applications using HTML5 based frameworks, specifically Kendo UI Mobile. It teaches you in a simple step-by-step manner how to create a service backend layer using ASP.NET Web API and how to integrate it with your ...
Price: $29.99  |  Publisher: Packt Publishing  |  Release: 2013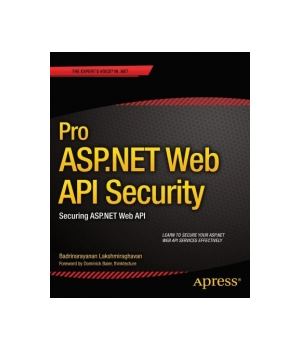 by Badrinarayanan Lakshmiraghavan
ASP.NET Web API is a key part of ASP.NET MVC 4 and the platform of choice for building RESTful services that can be accessed by a wide range of devices. Everything from JavaScript libraries to RIA plugins, RFID readers to smart phones can consume your services using platform-agnostic HTTP.Fortunately, ASP.NET Web API provides a simple, ro...
Price: $33.55  |  Publisher: Apress  |  Release: 2013

Beginning ASP.NET 1.1 with Visual C# .NET 2003 





by Chris Ullman, John Kauffman, Chris Hart, Dave Sussman, Daniel Maharry
This book teaches you how to build custom ASP.NET Web sites from the ground up. An expert team of authors uses their extensive ASP.NET programming experience to give you hands-on instruction in the best way to create Web sites with ASP.NET and C#. This completely updated edition features new examples, and all code is written and tested fo...
Publisher: Wrox  |  Release: 2004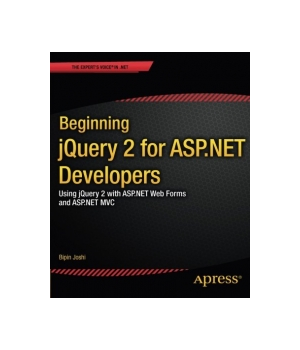 Beginning jQuery 2 for ASP.NET Developers 





by Bipin Joshi
jQuery is the most popular JavaScript library in use today, appearing on nearly two thirds of the 10,000 most visited sites on the web. With this sort of popularity, it's clear that ASP.NET developers can't afford to miss out.By combining jQuery with ASP.NET you get the best of both worlds: the client-side interactivity and resp...
Price: $44.79  |  Publisher: Apress  |  Release: 2013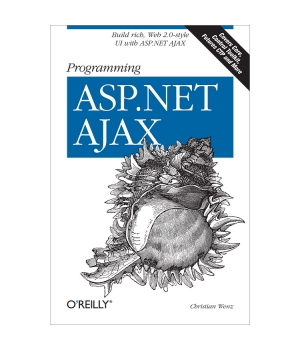 by Christian Wenz
Delivering rich, Web 2.0-style experiences has never been easier. This book gives you a complete hands-on introduction to Microsoft ASP.NET AJAX 1.0, the new framework that offers many of the same benefits for Ajax development that ASP.NET provides for server-side development. With Programming ASP.NET AJAX, you'll learn how to create...
Price: $31.65  |  Publisher: O'Reilly Media  |  Release: 2007

by Matthew MacDonald
Starting from first principals, you'll learn the skills you need to be an effective ASP.NET developer who is ready to progress to more sophisticated projects and professional work.You'll be taught how to use object orientation and code-behind techniques to lay out your code clearly in a way other developers can easily understand...
Price: $54.99  |  Publisher: Apress  |  Release: 2012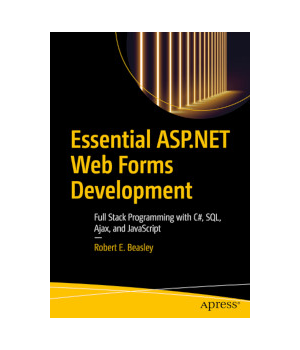 Essential ASP.NET Web Forms Development 
by Robert E. Beasley
Go from beginner to pro using one of the most effective and widely used technology stacks, Microsoft ASP.NET. Beginning with the basics, you will learn how to create interactive, professional-grade, database-driven web applications in no time, using ASP.NET, C#, SQL, Ajax, and JavaScript.Essential ASP.NET Web Forms Development is divided ...
Price: $31.72  |  Publisher: Apress  |  Release: 2020