AI-First Healthcare
AI Applications in the Business and Clinical Management of Health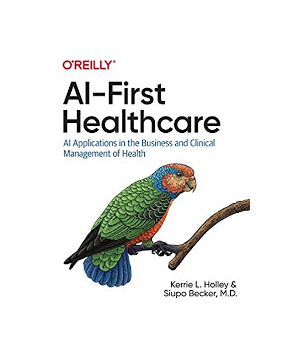 | | |
| --- | --- |
| Price | $42.73 - $53.66 |
| Rating | |
| Authors | Kerrie L. Holley, Siupo Becker |
| Publisher | O'Reilly Media |
| Published | 2021 |
| Pages | 222 |
| Language | English |
| Format | Paper book / ebook (PDF) |
| ISBN-10 | 1492063150 |
| ISBN-13 | 9781492063155 |
EBook
Hardcover
Paperback
AI is poised to transform every aspect of healthcare, including the way we manage personal health, from customer experience and clinical care to healthcare cost reductions. This practical book is one of the first to describe present and future use cases where AI can help solve pernicious healthcare problems.
Kerrie Holley and Siupo Becker provide guidance to help informatics and healthcare leadership create AI strategy and implementation plans for healthcare. With this book,
business
stakeholders and practitioners will be able to build knowledge, a roadmap, and the confidence to support AIin their organizations - without getting into the weeds of
algorithms
or open source frameworks.
Cowritten by an AI technologist and a medical doctor who leverages AI to solve healthcare's most difficult challenges, this book covers:
- The myths and realities of AI, now and in the future;
- Human-centered AI: what it is and how to make it possible;
- Using various AI technologies to go beyond precision medicine;
- How to deliver patient care using the
IoT
and ambient computing with AI;
- How AI can help reduce waste in healthcare;
- AI strategy and how to identify high-priority AI application.

4
5
7
Similar Books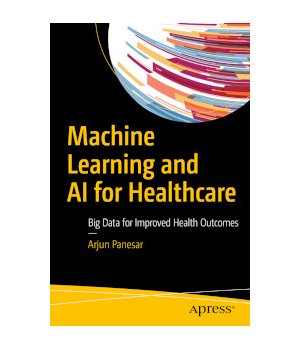 Machine Learning and AI for Healthcare 





by Arjun Panesar
Explore the theory and practical applications of artificial intelligence (AI) and machine learning in healthcare. This book offers a guided tour of machine learning algorithms, architecture design, and applications of learning in healthcare and big data challenges.You'll discover the ethical implications of healthcare data analytics ...
Price: $34.45  |  Publisher: Apress  |  Release: 2019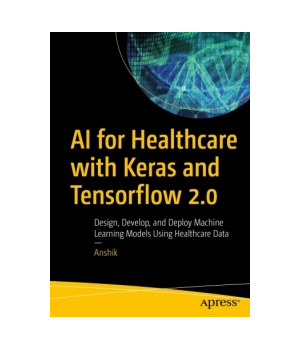 AI for Healthcare with Keras and Tensorflow 2.0 
by Anshik Bansal
Learn how AI impacts the healthcare ecosystem through real-life case studies with TensorFlow 2.0 and other machine learning (ML) libraries.This book begins by explaining the dynamics of the healthcare market, including the role of stakeholders such as healthcare professionals, patients, and payers. Then it moves into the case studies. The...
Price: $36.74  |  Publisher: Apress  |  Release: 2021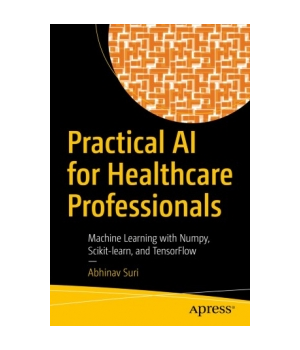 Practical AI for Healthcare Professionals 
by Abhinav Suri
Artificial Intelligence (AI) is a buzzword in the healthcare sphere today. However, notions of what AI actually is and how it works are often not discussed. Furthermore, information on AI implementation is often tailored towards seasoned programmers rather than the healthcare professional/beginner coder. This book gives an introduction to...
Price: $41.49  |  Publisher: Apress  |  Release: 2022

Pro Spatial with SQL Server 2012 





by Alastair Aitchison
Microsoft SQL Server implements extensive support for location-based data. Pro Spatial with SQL Server 2012 introduces SQL Server's spatial feature set, and covers everything you'll need to know to store, manipulate, and analyze information about the physical location of objects in space. You'll learn about the geography an...
Price: $59.45  |  Publisher: Apress  |  Release: 2012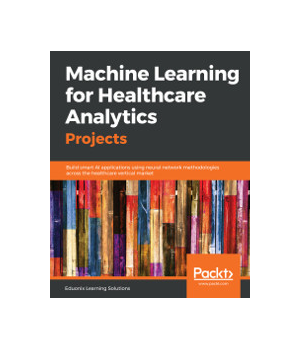 Machine Learning for Healthcare Analytics Projects 





by Eduonix Learning Solutions
Machine Learning (ML) has changed the way organizations and individuals use data to improve the efficiency of a system. ML algorithms allow strategists to deal with a variety of structured, unstructured, and semi-structured data. Machine Learning for Healthcare Analytics Projects is packed with new approaches and methodologies for creatin...
Price: $23.99  |  Publisher: Packt Publishing  |  Release: 2018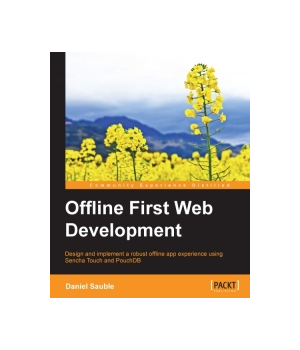 by Daniel Sauble
When building mobile apps, it's easy to forget about the moments when your users lack a good Internet connection. Put your phone in airplane mode, open a few popular apps, and you'll quickly see how they handle being offline. From Twitter to Pinterest to Apple Maps, some apps might handle being offline better - but very few do i...
Price: $44.99  |  Publisher: Packt Publishing  |  Release: 2015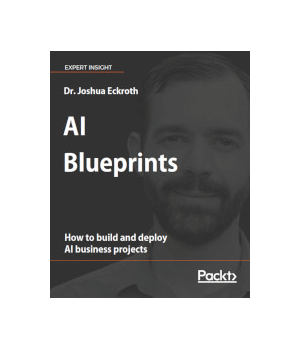 by Dr. Joshua Eckroth
AI Blueprints gives you a working framework and the techniques to build your own successful AI business applications. You'll learn across six business scenarios how AI can solve critical challenges with state-of-the-art AI software libraries and a well thought out workflow. Along the way you'll discover the practical techniques ...
Price: $39.99  |  Publisher: Packt Publishing  |  Release: 2018

Mobile First Design with HTML5 and CSS3 





by Jason Gonzales
The mobile first design philosophy aims to develop websites that will be lean and fast on small screens without sacrificing a tablet or desktop experience. Using HTML5, CSS3, and simple, standardized modern web tools you can make one site to rule them all.Mobile First Design with HTML5 and CSS3 will teach you the tools you need to make a ...
Price: $20.99  |  Publisher: Packt Publishing  |  Release: 2013